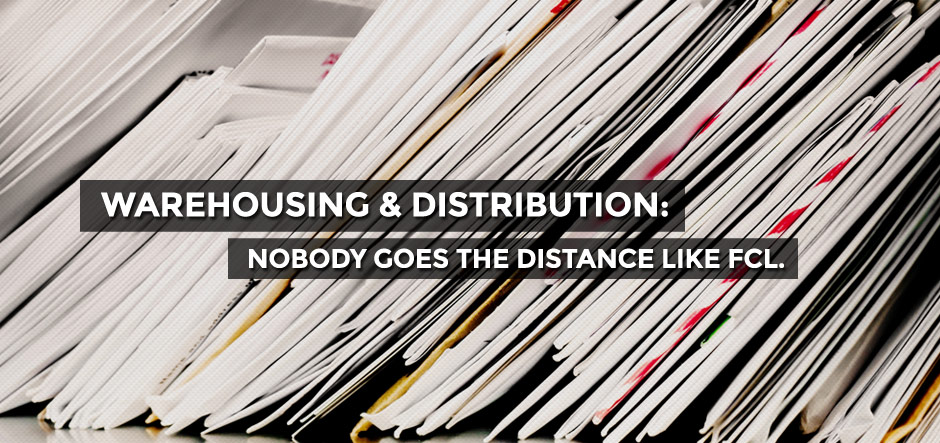 FCL's exceptional services go multiple steps beyond ink-on-paper. In fact, nobody has the experience we possess for taking designs from finishing through warehousing to inventory management, fulfillment
— all the way to distribution. Whether it's B2B or B2C, we assure that your materials get where they're going quickly and efficiently
— with drop shipping and data management. All told, our overall goal is to make your job easier. How? By skillfully integrating project management, packaging and fulfillment services with the current processes and core business, so we can increase our overall service offerings, profitability and efficiency.
At FCL, we apply the processes and tools ensuring optimal operation of our manufacturing and distribution supply chain. This includes the optimal placement of inventory within the supply chain; minimizing operating costs — including manufacturing costs, transportation costs, and distribution costs.
We will provide all the necessary address standardization, address cleansing, and mail sorting required to be eligible for all postage discounts.
We'll also analyze your files and provide postal logistics, planning and strategy for maximizing savings. Which means we achieve even greater savings by co-mingling pieces with other mailings, or delivering large bulk mailings directly to Sectional Center Facilities (SCF), Bulk Mail Centers (BMC), or Destination Delivery Units (DDU), and then passing the postage discounts to you.
You can bet on it — whether it's B2B or B2C, we have the total capabilities, and then some, to make sure your materials get where they're going.
FAST TURN PRINT QUOTES
No sales pitch, no meeting, just fill out a brief form and we'll get pricing to you within a day.


---